Even in competitive economic times, there is always something being built in Wilsonville. It's a testament to a gateway community situated between the Oregon state Capitol in Salem and Portland, the state's largest metropolitan area.
Wilsonville's beginnings were that of a transportation hub, and today transportation is one of the main reasons businesses choose to locate in the town of 19,000 people. With Interstate 5 bisecting the community, a regional airport next door, and many commuter options including Oregon's first heavy rail commuter train and a locally-controlled transit system, transportation is made easy. Add in great schools, favorable taxes and city infrastructure that is prepared for growth, and Wilsonville is an ideal location for business.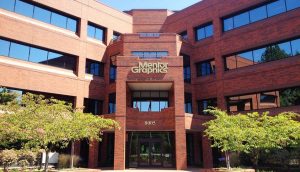 But don't take our word for it. High tech companies ranging from FLIR, Mentor Graphics, Xerox and Rockwell Collins, to numerous distribution centers and manufacturers including Coca-Cola Bottling, FOODesgin Machinery & Systems Inc. and Sysco Food Service (of Portland Inc.), Wilsonville has been the destination of choice for many industries.
Visit our links to find out more information about our community and why it would make a great place to do business.