The Wilsonville area is home to some of the finest cycling routes in the South Metro Region. Exploring the landscape in and around Wilsonville by bicycle will definitely yield hours of rewarding activity.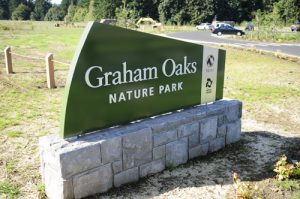 Beginner cyclists should try exploring many of the city's parks and be sure to check out the Tonquin Trail as it snakes through Graham Oaks Nature Park.
The adventurous cyclist should consider striking out into the Tualatin Valley along Advance, Homesteader, and Mountain Road.
For those of you craving a leg-draining climb, be sure to roll out to some of the region's notable hills. A Wilsonville hill route would be incomplete without visiting Petes Mountain Road, Ladd Hill, and/or Parrettt Mountain.  For the particularly ambitious and masochistic cyclist, try your best on Heater Rd.
If you're looking for a challenge, download the Strava app for your iPhone or Android mobile device and try getting some K.O.M. (King of the Mountain) points and see how you stack up to other cyclists in the area.
Be sure to finish your ride in Wilsonville at one of our many fabulous dining establishments for a refreshing snack and drink.
…and of course, ALWAYS wear a helmet and appropriate clothing.
Sample Routes:
Wilsonville by bike for Beginners
This is an out-and-back route for beginner riders and families. Pack a picnic and have lunch at Grahams Oak Nature Park. Start at Memorial Park and take Wilson Lane to the bike/walk path underneath the freeway.
Wilsonville Hill Route:
Start at the Wilsonville Visitor Center and head out to Ladd Hill and Parrett Mountain by way of the incredibly steep SW Heater Rd. Finish back in Wilsonville and reward yourself for your efforts.
Wilsonville Intermediate-Advanced Rider Route:
A route that explores the Tualatin Valley. A mix of rolling terrain, hills, and rural roads. Start and End at the Wilsonville Visitor Center.
Helpful links:
Check out MapMyRide for route ideas or even to route your own.
Check the City of Wilsonville's dedicated bicycling page here.
Connect with area cyclists and see how fast you are with Strava.