Use the Categories or Tags filters if you would like to search for a specific event, such as our Golf Tournament, or a recurring event like AM Networking Morning Spark.
Dec
7
Thu
Annual Meeting – Wilsonville Area Chamber of Commerce

@ Al Kader Shrine Center
Dec 7 @ 7:30 am – 9:00 am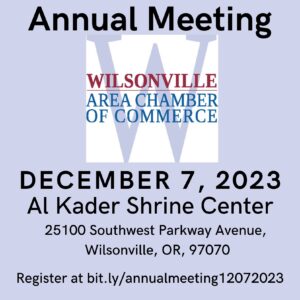 The Chamber's Annual Meeting is held each December. This event features a complimentary breakfast to celebrate and thank all our members, volunteers, committee chairs and board members. It is of course also a great way to re-connect with other members as we all look forward to a new year.
Enter the business card raffle to win a chance at more than $300 in great door prizes!
The celebration is complimentary but limited to Chamber members ONLY. To attend you MUST pre-register. We have to have an accurate head count for food and beverage. If you pre-register but then cannot attend, please email us and let us know you're not coming.
Meeting Agenda
Doors Open 7:30: Touch base with old friends and make new connections.
Breakfast & Program 8:00: Complimentary breakfast. Celebrate the accomplishments of the past year and see what's on the horizon for the upcoming year.
Award Presentations 8:30: Presidents Award, Ambassador of the Year.
Business Card Raffle 8:45: No need to buy raffle tickets your business card is your chance at more than $300 in great prizes
Dec
13
Wed
Meet & Eat December 13, 2023

@ Virtual
Dec 13 @ 12:00 pm – 1:00 pm
An innovative program to do face-to-face, one-on-one, human-to-human relationship building, referring, and connecting! This is NOT a zoom meetup – it's a one-of-a-kind quality, virtual connection experience.
Bringing lunch? Optional. Making virtual business connections? Guaranteed.
* FREE for Chamber Members and this time FREE for guests.
* You MUST pre-register on Eventbrite no later than 9pm on 12/12/23.
* You MUST register for the event at Blitzr BEFORE by 9pm 12/12/23. (Simple instructions included with your Eventbrite ticket confirmation.)

Register here.
Schedule:
*Please arrive anytime from 11:30-11:50am. The electronic doors close promptly at 12 pm.
| 12 pm | Person-to-person, no distractions networking. Meet in 7-minute increments with 7 different business professionals. Our Blitzr artificial intelligence software will automatically connect you with the other guests in a private 1:1 video chat. You can decide to make it totally random who you meet or you can rank your preferences on whom you'd like to meet with. (You can also choose who you do NOT want to meet with 1:1. Only you and the AI software know your choices.)
| 12:55 – 1 pm | Door Prizes and announcements
Optional Special Bonus "Free-Range Networking":
| 1:00 – 1:20 pm | If you would like to continue networking in big room format, join us in our "free-range" virtual networking. Explore the virtual room to meet & greet. Our software enables you to "see" everyone who is in the room so you can decide to double-click on someone's avatar and sit down at the virtual table to chat with them privately or you can choose to sit at a group table with up to six local area business professionals. (You will receive the link for this special bonus networking during the private 1:1 day of session)
Investment:
• FREE for current members of Canby, Chehalem Valley, Lake Oswego, North Clackamas, Oregon City, Sherwood, Tualatin, Tigard, West Linn, and Wilsonville Area Chambers of Commerce
• FREE for guests
(*) YOU MUST PRE-REGISTER FOR THIS EVENT. When you register you will receive a confirmation email with the required special event link and instructions on how to log in. Space is limited – 1st come first served.
All attendees will receive an excel form with attendee contact info.
The Wilsonville Chamber and our neighboring Chambers are proud to bring you a dynamic way to make connections so you can build your professional network and grow your business. Our Wilsonville Chamber ambassadors will be there to assist you so you'll be sure to have a fun and profitable experience.

Register here.