Use the Categories or Tags filters if you would like to search for a specific event, such as our Golf Tournament, or a recurring event like AM Networking Morning Spark.
Oct
27
Wed
Pocket Productivity
Oct 27 @ 11:30 am – 12:45 pm
You have more power in your pocket than they needed to send a man to the moon – and yet if you don't know how to use your phone, it's just an expensive and distracting paperweight.
You need to know how to harness that power and make it profitable, so you can run your business instead of having it run you, and be the most profitable member of your business team.
In "Pocket Productivity," audience members will discover:
A plan to stop wasting money and time on useless apps
The ability to leverage the tools already on their phone
The what and why a tool is useful – or not
A workable plan for various parts of their day to be more effective and efficient, and profitable – without spending a fortune!
About your guide:
Phil Gerbyshak is a recovering tech nerd and small business owner who has several hundred apps on his phone – so you don't have to. He runs his consulting business mostly from his phone, and with the helps of tools, tactics and apps that Phil loves to share so everyone can have more pocket productivity.
Nov
10
Wed
Canva Crash Course
Nov 10 @ 12:00 pm – 1:00 pm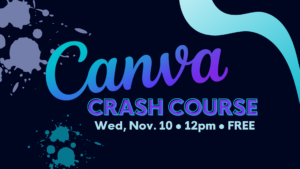 Canva makes video & graphic design accessible for everyone… our seminar will give you the tools to get started!
Whether you're looking to design a logo or a social graphic, a web banner, or a marketing brochure, Canva has the template you need to create incredible designs that will propel your small business forward… but first, you need to know how to use them!
Learn tips and tricks on the best ways to make Canva work for YOU! Why struggle through trial and error to reach your best design outcome when you can join us for a Canva Crash Course?! We will dive into selecting the best template for your project, hidden features and tools, and best practices in sharing and saving files.
Canva is a free design platform with the option to upgrade. All are welcome at this one-hour seminar.
Schedule:
12:00pm-12:30 | Canva Crash Course
12:30-1pm | Open Questions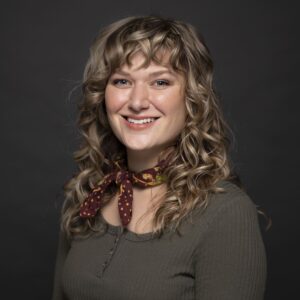 About the speaker:
With a passion for all things creative, Mel Tarter Wells has been a consultant for small businesses since graduating from Michigan State University with a degree in communications/marketing in 2012. Mel began her career as a professional musician promoting her band's tours through Germany, Switzerland, Italy, the United States, and beyond. The experience gained by managing her band's website, social media, public relations, graphic design, and producing and editing videos, prepared her to help businesses with similar needs.
Whether it's a new company website or a revamped logo, Mel has an innate ability to align with her client's goals and, through design and messaging, help them effectively engage their target audience. Canva is one of Mel's most trusted tools in every aspect of her work.
Nov
17
Wed
Next Level Networking
Nov 17 @ 7:45 am – 9:00 am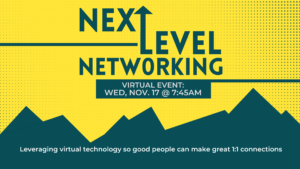 An innovative FREE program for Chamber Members ($10 guests) to do face-to-face, one-on-one, human-to-human relationship building, referring, and connecting! This is NOT a zoom meetup – it's a one-of-a-kind quality, virtual connection experience.
* You must pre-register to participate no later than 6:00am on Wed, Nov. 17th.
Schedule:
*Please arrive anytime from 7:30-7:45am. The electronic doors close promptly at 7:50 am.
| 8:00am | Person-to-person, no distractions networking. Meet in 5-minute increments with 10 different business professionals. Our Blitzr artificial intelligence software will automatically connect you with the other guests in a private 1:1 video chat. You can decide to make it totally random who you meet or you can rank your preferences on whom you'd like to meet with. (You can also choose who you do NOT want to meet with 1:1. Only you and the AI software know your choices.)
| 8:55-9:00am | Door Prizes and announcements
Optional Special Bonus "Free-Range Networking":
| 9:00-9:20am | If you would like to continue networking in big room format, join us in our "free-range" virtual networking. Explore the virtual room to meet & greet. Our software enables you to "see" everyone who is in the room so you can decide to double-click on someone's avatar and sit down at the virtual table to chat with them privately or you can choose to sit at a group table with up to six local area business professionals. (You will receive the link for this special bonus networking during the private 1:1 day of session)
Investment:
• FREE for current members of Canby, Chehalem Valley, Lake Oswego, North Clackamas, Oregon City, Sherwood, Tualatin, Tigard, West Linn, and Wilsonville Area Chambers of Commerce
• $10 for guests
(*) YOU MUST PRE-REGISTER FOR THIS EVENT. When you register you will receive a confirmation email with the required special event link and instructions on how to log in. Space is limited – 1st come first served.
All attendees will receive an excel form with attendee contact info.
The Wilsonville Chamber and our neighboring Chambers are proud to bring you a dynamic way to make connections so you can build your professional network and grow your business. Our Wilsonville Chamber ambassadors will be there to assist you so you'll be sure to have a fun and profitable experience.