When:
Sep. 16th @ 2:00 pm – 3:30 pm
2021-09-16T14:00:00-07:00
2021-09-16T15:30:00-07:00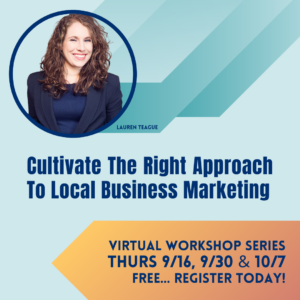 Free registration includes three 90-minute sessions: Thursday, Sep. 16, Sep. 30 & Oct. 7, 2021. Space is limited.
Are you ready to reset your Marketing or give branding a try? Over the course of three weeks (one Thursday per week, 90-mins each session), you will get hands on training on marketing frameworks used by the world's top marketers and customized to be used in any business. Lauren's approach isn't a one-size-fits-all solution but is deeply engrained in getting back to your mission, your values, and matching your processes to the right Marketing strategy.
Session 1 (September 16): "Your Local Business" sets brand identity through the eyes and ears of your customers. In this session, we'll develop the brand voice and tone guidelines that define how your business interacts with audiences online and off.
Session 2 ( September 30): "Mapping Your Audience's Journey" To change what our customers say about us, we must deeply understand our customers and their motivations. We'll spend this session defining our audience, their decision journey and how our business can best show up for them to support on every step.
Session 3 (October 7): "Content Strategy" Identify how best to craft the messages your business needs and where to share them to reach your audiences.
Duration: Three (3), 90-minute sessions with online group interaction between.
You must pre-register in order to receive the link to access. You must complete Part 1 (i.e. attend virtual live or recorded & complete honework) in order to attend Part 2 or Part 3.