When:
Jun. 2nd @ 7:30 am – 9:00 am
2021-06-02T07:30:00-07:00
2021-06-02T09:00:00-07:00
Where:
Virtual & In Person: Corner Coffee Shoppe
8269 SW Wilsonville Rd
Wilsonville, OR 97070
USA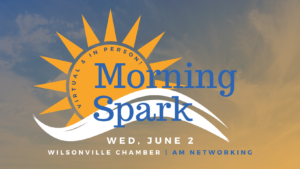 JOIN US IN PERSON OR VIRTUALLY… YOU DECIDE!
Our morning networking events are great for meeting and making new business connections within the community. Facilitated introductions between attendees ensure you will meet everyone.
If you choose to join us in person… WACC will follow all state, county, and local safety regulations. All attendees will be required to do so as well. You must pre-register to attend.
If you choose to join us virtually… you'll receive a link in your inbox leading up to the event. We look forward to seeing you online. You must pre-register to attend.
Everyone is eligible (in person & virtual) to win great door prizes!
Guests are welcome to join us for a fun and business-building morning.
* Non-members are limited to two Morning Spark events before joining the Chamber.
Apply now to host an upcoming Morning Spark! Email kevin@wilsonvillechamber.com.
About this month's host:
"Corner Coffee Shoppe is the dog friendliest coffee shop in Wilsonville… and it has the best local coffee too!Located in the Town Center Plaza in Wilsonville, Corner Coffee's dog friendly patio allows you and your pooch (or puddy cat) to relax in the shade, enjoy the cool breeze, and savor your Coffee Shoppe Coffee… In addition to the coolest summer breezes in Wilsonville, the Coffee Corner has another superpower: We proudly serve consistently exceptional iced and hot drinks combined with the freshest, healthiest food prepared on site! Our culinary staff creates scrumptious, Northwest-inspired breakfasts, lunches, pastries and snacks that help you power through the day."