When:
Feb. 25th @ 4:30 pm – 5:00 pm
2021-02-25T16:30:00-08:00
2021-02-25T17:00:00-08:00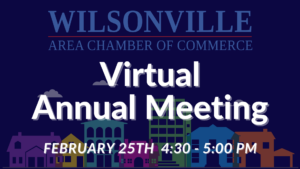 All members of the Wilsonville Area Chamber of Commerce are invited to attend our Virtual Annual Meeting.
The core of our community is individuals and businesses who consistently work together for the betterment of Wilsonville. Please join us as we celebrate the good work accomplished in the past year, and lay the groundwork for the year ahead.
Meeting Agenda:
What's new for 2021 in your Wilsonville Chamber
Election / Voting for:
• Your new 2021 Board Chair, Jaimy Beltran, Beltran Properties Group at eXp Realty
• A minor bylaws update
All Chamber members will receive the Zoom link via email. Feel free to reach out to Kevin if you do not see your invitation.